Monday, July 6, 2009
Yay I'm on holidays from work for the week. Its the first week of school holidays too, so wanted to spend some time with the kids. Not sure how much I'm going to be able to put on here during the week, but I will try. Ive changed my layout this morning, I'm the kind of person that gets very bored easily with the same old, so I like to change things around often. Ask my Hubby, he gets frustrated when the furniture in the house mysteriously gets moved around often - by me, lol. Today I have 2 free quickpages for you from a mini kit Ive done called Feeling Spotty, (I should have that up for download in the next couple of days) I did this as I wanted to scrap the kids chicken pox photos from when they had it in 2004 (yep, 2004 is so long ago, lol) So I did the first suitable for boys and am almost finished a part 2 in pinks and purples for girls. So during this week I'll be putting up scrapbooking quick pages and mini tagger kits based on chicken pox and feeling spotty, lol. Here is a layout I did of my son with his chicken pox - he was then 4yo and got them 3 1/2 weeks before Christmas. Oh joy - not. I did this layout with the free template from yesterday.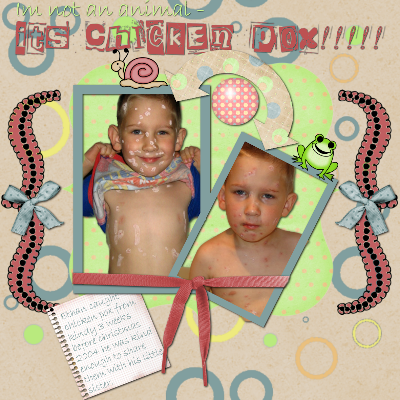 And heres the preview of the 2 quickpages, done in 12x12 and saved as png so all you need is photos and journaling. I also used yesterdays free template as a quickpage here based on the layout above.
You can download this
here.
Thanks for stopping by ☺